Do you scale your business? Have you made your lead generation process flow chart ever? Are you prepared to make a big change within a couple of days?
Don't worry! In this article I am going to disclose how to scale your business with a perfect lead generation process flow chart.
In every business size the most astonishing action plan is to bring potential leads. The number of potential leads is the (ultimate) revenue parameter.
Generating business leads irrespective of business size and industry type through a process flow chart is very easy.
Even the process flow chart ensures buyer persona with the CTA. It triggers the conversion rate.
With a lead generation process flow chart, the business owner can understand and measure the stage of the buyer's journey.
Here I am going to reveal how lead generation process flow charts help in business growth.
Before that let me discuss some important parameters on lead generation.
Lead generation is the key of every marketing strategy. More specifically it helps to build rapport with the prospect and customer.
From brand awareness to business growth, one important parameter is the strategy behind every lead generation.
I think you can definitely understand how important it is to know what is business development through the ideal lead generation strategy.
Remember both business to business and business to customer companies who try to execute their business or to sell or promote their product and service. So undoubtedly lead generation is next to important in every online and offline business.
Let's discuss details about the flowchart of lead generation business strategy.
Before that you have to know what lead generation strategy is!
What is the Lead Generation Process Flow Chart for Small Businesses?
The term lead generation is a methodology that helps to bring targeted audiences to your business. Whatever product or service you're dealing with, your success parameter is hidden in your lead generation strategy.
Basically in the lead generation, it helps to gather information with the exchange of content, (newsletter, PDFs, ebooks etc.) tools, special values like discounts and offers, information and more.
You may know about cold calling and push marketing to generate leads. But in this decade I only prefer inbound marketing strategy for lead generation.
Why?
In inbound marketing the prospects come to your business with a keyword or a search term (that you're using). It means the customer or the prospect directly finds you.
Apart from finding, the prospect has a chance to become a customer with an action regarding this.
Even the inbound methodology helps a lot to develop business goals because you can trigger your prospect's persona. Even you can calculate where your buyer is right now!
So, in every successful inbound marketing strategy, the primary focus is on lead generation.
As a digital marketing professional, I experienced, a lot of business owners fail to communicate their prospects due to lack of prediction and communication.
Understanding customer persona is not easy unless you're a genuine digital marketing professional.
Thus let's know what we do exactly for getting leads and how to make lead generation process flow charts to run profitable business.
Stages of Lead Generation
As I have already mentioned that lead generation is a step by step process or stages, so first we have to concentrate on the stages.
Awareness stage
Consideration stage
Decision stage
Now the question is what is exactly an awareness stage?
Awareness stage basic stage of any action plan. In this stage the prospect indicates a problem or an opportunity that they need or seek (or may be). This stage is very much close to providing education.
Consideration stage is vital in the lead generation process flow chart. In this stage, the customer finds a way out of any problem or get an opportunity with commitment. This stage is close to building knowledge and rapport.
Decision stage is the final stage where a prospect becomes a customer taking an action. This stage is known as the completion stage of any lead generation process.
Don't think these are all. They are huge. Stay connected.
To live your lead generation strategy, you need to know few important parameters like:
Attract with Strategy or the plan towards a particular goal.
Convert your Visitor or targeted audience towards that particular goal as leads.
Close your leads to customers and ensure action
Delight with building rapport with customers.
Every lead gets successful after an action like purchase, but according to me, the most significant part is to build rapport even if the prospect doesn't take any action.
A successful lead generation exactly figures out two most important parameters:
Who to target and
Where he/she lives online
To an ecosystem in lead generation, you need to concentrate on the above.
In lead generation the most significant is email.
How to Trigger Buyer Persona
Buyer persona simply helps to understand customer/buyer behaviour towards an action like purchase a product or register a service.
Lead generation process flow chart definitely help to understand buyer persona to target the top customer.
Why?
You need to know something about your prospect like where are they from, what they love, what they want, why are they at your door and more.
In a word, this is better to understand who you're going to reach out and for what.
To know the buyer persona, you need to focus on attracting your prospect first.
For that, you need a solid web property. I always prefer to have a website for this.
Strategies to Attract Prospect
Attracting prospects to your website or web property, you need to make a solid strategy. Remember, your primary goal is to convert prospects to customers.
Now the question is how!
I always prefer the following strategies to attract the audience.
Business Website
Websites are the primary platform of lead generation. It is actually the perfect platform that offers to take action.
Through the website, you can convince your prospect to become your customer.
Lead generation strategy flow chart ecosystems with websites easily convince potential leads and convert to delight.
Today almost 98.96% business owners target potential leads with their websites. Even it is easy to ask a visitor to take an action with the CTA trigger.
Hence, website design and development is one of the foremost lead generation platforms.
Content Marketing
Content marketing is the most powerful strategy of lead generation. Actually content marketing is always the first priority to attract prospects.
Do you know why content marketing is essential?
Content marketing helps from educating the audience to communicate the audience through various channels.
What type of contents are actually used in content marketing?
Here are some important content marketing includes
Infographics,
Blog content,
PDFs,
Ebooks,
Videos,
Podcasts,
Case study,
Social media content and
More
Email marketing
If you wanna grow your conversation rate higher, you need to focus on email marketing.
Email marketing is one of the most famous inbound marketing strategies to attract users.
According to a statistical report, email marketing increases up to 300% ROI.
Definitely you wanna know how!
Email is the best way to build a positive relationship with the prospect. With the form of the exchange of information, discounts, newsletter, infographics, PDFs, PPTs, discount, ebooks and more you can build rapport.
Blogging
Blogging is one of the legitimate ways of lead generation. Mainly in the form of knowledge distribution, the blogging has no alternative.
People love sharing useful content with others, so blogging has a high chance to attract potential prospects.
Another important factor related to blogging is, mostly visitors come with organic searches. Almost 99% blogging platforms depend on SEO to leverage organic traffic.
Lead generation with blogging is one of the most demanding segments in this era.
Social Media Marketing
If you wanna target active online visitors to your business, social media has no alternatives. It directly promotes your brand visibility with new ideas, content etc.
Even targeting an audience through social media marketing definitely helps to reach a buyer persona. Along with it helps to build a good relationship between business and prospect.
I've observed an interesting fact about lead generation strategy through social media marketing. People directly go through review and remarks of your business. That also boosts your branding passively.
Video Marketing
In this decade, video marketing has no alternatives. From attracting to taking an action, video marketing has no substitute.
Video with a combination of forms helps to increase up to 300% website traffic that has a possible chance to convert into leads.
Video marketing not only helps lead generation, but also it helps branding as well.
How?
People prefer videos to understand the business or product/service of your brand.
Ads and Retargeting
Retargeting is the best way to nurture the positive leads. It is the most effective way through search engine marketing, social media marketing and other channels.
Generally an enticing ad copy attracts visitors and converts into leads.
This promotional method runs quicker, because it is easy to rank faster in your targeted zone.
Ads and retargeting are very essential steps of lead generation.
In both B2B and B2C lead generation strategy, you must follow up your potential leads regularly.
As per a research, business development is around 60% dependent on your strategy after getting leads.
How to make Lead Generation Process Flow Chart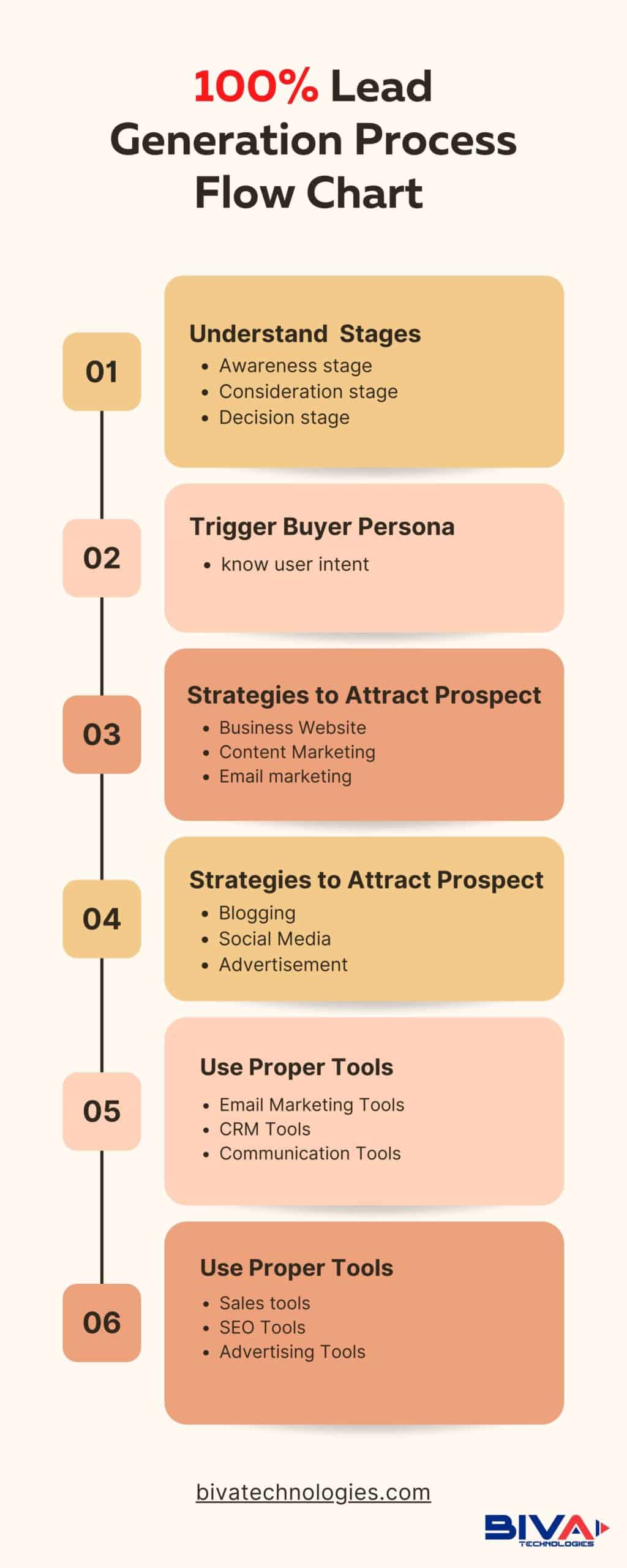 Lead generation process Flow chart smooths the lead workflow process.
Even it helps to prepare a blueprint of your lead generation strategy well enough.
How?
Let's discuss it! This is tremendously interesting.
Before that hope you know what a flow chart is!
A flowchart is a hierarchical process or stages in a diagrammatic format. It correctly triggers the buyers' journey process to success.
Look at the example.
How to generate leads for your "How to Grow Business with Digital Marketing Service"? Or "How to Grow Business Online"?
Suppose you're using content marketing as your lead capture channel.
Let's prepare the lead generation process flow chart with the content marketing channel.
Here you must know:
The keyword you're using
Demographic you're targeting
Let's start it with a flow chart.
Start creating content related to online business growth.
Bring visitors with a content marketing process to your targeted place (landing page).
Attract to your CTA (call to action) with the exchange of any document (eg. Free eBook) or lucrative offer (eg. up to 50% off)
Some visitors exchange their credentials like email to get documents or offers. (Some may skip from there. Don't worry!).
Those who sign up or avail your business becomes your customer
Now, you delight and build rapport with your customer.
So, from a strange visitor to a customer is the funnel of a lead generation.
Lead Generation Tools
Lead generation is partly dependent on tools. Here are some important and popular tools that help lead generation quicker.
I've made a list of popular tools related to industry.
Email marketing tools:
OptimMonster – Best drag and drop lead generation tool. Mainly used to capture emails.
ConstantContact – Best MailChimp alternative email marketing tool.
SendinBlue – Complete marketing automation. Best for both email and sms marketing.
Email collection tools
Hunter – To collect email of prospects.
AeroLeads – One of the best sales lead tools. Available in Google Chrome extensions.
Market Outreach Tools:
OutreachPlus – Multipurpose lead generation roundup tools.
Hoovers – Build a target list of your customers.
Growbots – Automation tool for following up the targeted and right decision makers.
Lead Forensics – Collect contact details of anonymous site visitors.
Prospect.io – Sales automation platform with email verification feature.
CRM (Customer Relationship Management) Tool
Hubspot – Number 1 CRM tool. It's automation features
SharpSpring – Build-in CRM and lead management tools.
Marketo – Attract leads via both inbound and outbound methods.
Sales tool
Salesforce – Manage sales leads, customer, sales team with its automation feature.
Hubspot sales – Best sales tool for small business.
Communication tools
Drift – Best communication tool to boost personal conversation.
Bontact – Message under one roof.
Callpage – Faster to set up and one of the best communication tools.
Advertising tools
Google Ads – Best advertising tools for SEM.
AdExpresso – Hootsuite's optimization tool for Google ads, Facebook, and Instagram.
Other tools
ReferralCandy – Best for eCommerce business sales.
WP-Forms – Best for poll and survey.
Zapier – Multiple businesses together.
Conclusion
Today almost every business wants to get customers through the lead generation process flow chart. In this decade, most significantly from small to large industries invest lots of revenue to collect leads. Business growth is very similar to quality customers. Now it's your time to make a lead generation process flowchart for your business growth.
I am a Google, Hubspot, SEMRush Certified Digital Marketing professional.  I've been providing quality Digital Marketing Training since 2018. I've started my journey as a freelancer. After 2018 when I launched Biva Technologies, I have been successfully handling various digital marketing projects including content writing, website design and development, SEO, SEM (PPC), social media, content marketing, email marketing and more. I love exploring new things, therefore, I spend 3 hours (approx) a day to lean new things. I am very passionate about Digital Marketing Training, Digital Marketing Services, Blogging and Affiliate Marketing as well.