Are you looking to manage your social media posts with automation? Don't worry! You're in the right place right now. Here I'll disclose the best social media automation tools that boost your social traffic.
Social signals are essential for ranking. Even for branding, social media is next to critical. Hence, bringing social media traffic to your business makes the real difference.
Additionally, social media automation helps to save time and money. Every SME (small and medium enterprises) needs to focus on social media automation.
Here in this article, I'll cover the top social media automation tools. You can develop your social media traffic without spending considerable time with social media automation tools.
Let me clear one thing!
Ideal and appealing social media content only develops branding, and social media posts must have the ability to reach your target audience. Then only with social media automation tools and ideal social media content bring success together.
What is Social Media Automation Tools
You'll agree with me that social media has changed a lot over the decades. Even marketing is going to be more competitive. So, it is hard to find time to handle social media content.
Social media automation tools help you manage your posts on social media even without spending valuable time there.
Generally, social media automation tools are kinds of softwares that automate your social media activities like content publishing.
The list is enormous, and I'll only focus on the top 10 social media tools that automate your social media activities.
Buffer
For the last couple of years, Buffer has stood alone as one of the most popular social media tools.
Buffer is a freemium social media automation tool. With the help of the 'buffer,' you can reach your ideal social media platforms like Facebook, Instagram, Twitter, LinkedIn, Pinterest, Reddit, etc.
With Buffer, you can schedule your content for various social media platforms.
Not only publishing content, but you can also check the performance of your content through its analytics.
Like every freemium tool, Buffer has limitations in its free package.
Its paid plan starts at $5 a month or $60 a year.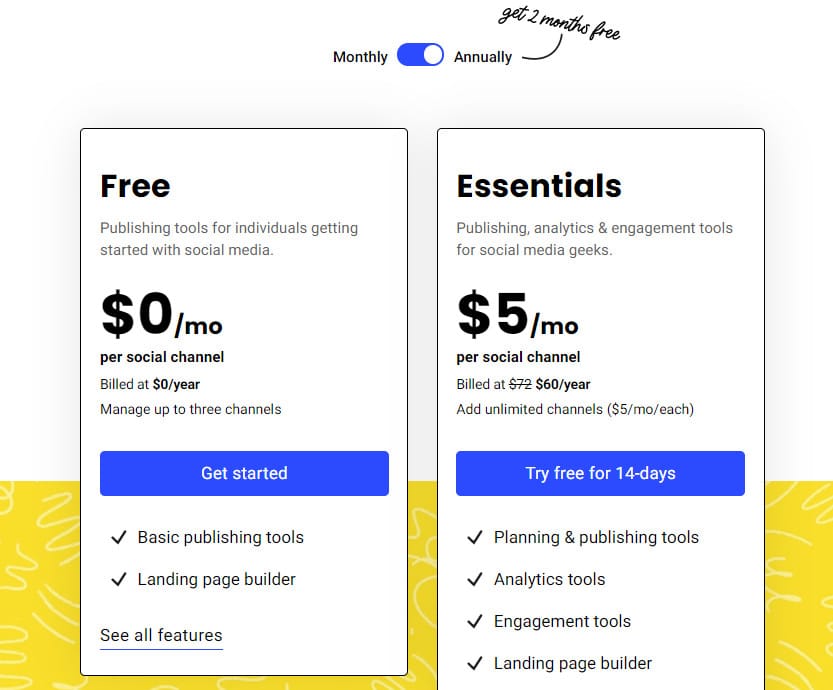 If you have the budget, you can afford its premium versions.
Hootsuite
Hootsuite is one of the leading social media automation tools in the market, and it has the same schedule options.
Hootsuite is also a freemium tool for social media automation. You can manage upto 50+ social media accounts with automation.
Hootsuite offers various packages for various businesses. Its premium business plan starts with INR 1915/- monthly.
You can enjoy its 30 days trial. If you want brand visibility, any social media automation tool like Hootsuite may be one of the best options.

Sendible
According to Sendible, it is one of the most efficient all-in-one social media automation platforms.
You can enjoy a 14 days trial. However, most of the packages are paid for.
The best thing about this tool is you can generate reports in just one click.
The starting package starts with $29.
If you have a budget, you can avail of their scale plan at $199.
CoSchedule
Not only manage social media, but also you can manage various tasks. Even its free plan helps you manage unlimited marketing projects and content.
With CoSchedule's premium package, you can avail unlimited social media publishing with scheduling.
Additionally, you can get various campaigns and social media temples.
The premium package starts from $29 a month.
SocialPilot
'SocialPilot' allows content curation along with scheduling posts.
You can get Canva integration, album and carousel posts, hashtag and character counters, audience targeting, and other essential features to double your social traffic.
The premium plan starts with $25.5 with only facilities of managing ten social media accounts for one user.
If your budget meets requirements, you can avail this tool for your social media automation.
IFTTT
IFTTT is generally a connectivity platform that helps businesses integrate.
Using its applets (connects two or more platforms/devices), you can manage Customization for your business.
The premium plan starts with only INR 390/- month. Its free program is for a lifetime. If you want to test something best, you can check using its free plans.
Later
Did you know Instagram is the fastest growing platform in this era? 'Later' helps the best for Instagram scheduling.
Not only manages, but also it triggers small business growth with branding.
Apart from Instagram, this platform also boosts other leading social media platforms like Facebook, Twitter, LinkedIn, Pinterest, etc.
It is a freemium tool that offers limited access in its free version. With only $8 a month, you can post 30 per social profile.
With its visual Instagram planner, you can reach your target audience and increase your followers.
If you are serious about Instagram mainly, this tool is one of the best for you.
SocialBee
If you have a small audience and want to plan your scheduled content, SocialBee may be a good option.
You can share content on all important social media platforms like Facebook, Instagram, Twitter, LinkedIn, Google My Business, Pinterest, etc.
You can add or import various content on different social media platforms for your audience.
This tool generally provides two plans and one is general, and another one is for an agency.
The general plan starts with $19 a month, whereas the agency plan starts with $79.
If you want to make a difference in your business growth, this social media automation may be a good choice.
Pallyy
Pallyy's automation is perfect for every business for a range of social media platforms.
Not only content publishing, but this platform is best for automatically sending content to your clients for feedback.
'Pallyy' offers bulk uploading. So you can easily manage lots of clients from one platform.
It is a freemium platform. So it provides various free and paid features though free plans have limitations.
The premium plan starts at $15 with various facilities.
Audiense Connect
For effective Twitter marketing, this tool has various features.
The direct messaging chatbots, optimization of Twitter campaigns, reporting, analysis, and other vital features help boost your business's Twitter traffic.
It offers various free and paid plans. The paid plan starts at $39.
Why should you focus on Social Media Automation?
Social media presence is essential for every business. You can reach your audience with your service (or product) with social media automation.
Whatever the business size is, branding is essential. Social media is the best platform for branding.
However, it is tough to log in to every platform and post content—social media automation access multiple platforms at a time.
You can schedule your ideal content for your target audience with its scheduling features.
With a social media automation tool, I guarantee you can increase your brand visibility and establish communication with your audience.
Bottom line
Social media automation is the best way to manage multiple social media accounts for your business. Sharing the right content to the right audience is always important. If you're using any social media automation tool, you can generate the best business growth.
I am a Google, Hubspot, SEMRush Certified Digital Marketing professional.  I've been providing quality Digital Marketing Training since 2018. I've started my journey as a freelancer. After 2018 when I launched Biva Technologies, I have been successfully handling various digital marketing projects including content writing, website design and development, SEO, SEM (PPC), social media, content marketing, email marketing and more. I love exploring new things, therefore, I spend 3 hours (approx) a day to lean new things. I am very passionate about Digital Marketing Training, Digital Marketing Services, Blogging and Affiliate Marketing as well.