People may have confusion about small business. Never judge small business as unimportant. Rather it is more useful.
Let me clear one confusion. Small business means fewer employees and budget. I've seen many small businesses converted into big ones after successfully running within a couple of years.
So, don't hesitate to focus on your small business. I personally believe in the potentiality of every business irrespective of size, volume, and turnover.
I know running a small business is not easy today. You need to take care of many things. Today I am going to discuss how to plan for a Small Business Website, one of the most important and essential things that definitely help your business grow.
This era mainly after COVID-19 lockdown, every business needs to change their strategy. Most of them are coming online. Every online business has more and different opportunities.
Thus I am here today with this article, where I'm gonna discuss how to make your budget friendly website at ease!
If you already have a website and you are getting a good amount of business, that's great.
If you don't have any website and plan to make your business website, read till the end. At the end, I shall have a gift for you.
So, let's start.
Do you know what you need to make a business website? How to plan website design and development budget?
I'll guide how to plan your budget for your website!
So, let's continue with the steps to make any small business website (from scratch).
Decide your Business Niche first
A small business website niche is always the first priority. Choose a suitable small business website niche that serves your purpose.
You can get help from Google, Bing, or other leading search engines. Even social media channels like Facebook, Twitter, Instagram, and more can help you here.
You may use my following tips:
Know if your business niche serves any solution.
Is there any competition?
Know your product/service.
I have explanations regarding the above.
Remember, people will come to your business if you work for them.
Suppose you plan to launch a restaurant. It definitely attracts people.
On the other hand, restaurant business definitely have competition, so people need it. Don't think, competition is bad for business, rather if your business has competition, you can get profit.
Last but not the least, you need to know well about what product or service you are providing.
For that you can do keyword research for your small business to make a list of ideal keywords.
Always keep one thing in your mind that, a good amount of business comes from the demand of your product/service.
Choose Small Business Website Platform
This is the second step. There are lots of website platforms available for small businesses. Some of them are:
WordPress
Wix
Weebly
SiteBuilder
Shopify
Majento and
More
Every platform is good enough in their own field.
However, my personal experience suggests WordPress first.
Why?
It is best for SEO (my experience says so). That means you can drive organic traffic faster here. Apart from it, you can easily customise WordPress anytime within your budget.
Even you can make any type of websites with WordPress like Ecommerce, LMS, business, portfolio, blog and more.
So I shall prefer WordPress as the best tool for small business always.
You may think it is costly!
I shall explain everything in detail. Just keep reading.
In general, the costing of WordPress website design and development depends on the following features.
Domain registration
Hosting
Template nor theme
Customization
Here are the details for you.
Domain Registration for your Small Business Website
Domain Registration is essential for your business needs. Suppose you are opening a restaurant, you need to book a domain as per your business.
So, keep an eye on one important thing first.
The domain name is always your business Identity.
TLDs
Now, you need to book your domain.
There are lots of domain registrars in the market. You can use any of them.
Some of them are:
Google domains
GoDaddy
Namecheap
Domain.com
Bluehost
Hostgator
Ipage
Big Rock and
More.
You can find some domain registrar who provides free domain at the time of hosting purchase.
Wherever you buy a domain, you must always look at three things.
Domain availability
Domain renewal cost
TLDs
According to my personal experience, domain with .com TLDs will cost 800-1200 INR approx.
Price always varies from country to country, taxation, TLDs and availability.
You can buy domain from anywhere. However, the top 4 domain providers are:
Google domain
GoDaddy
Namecheap
Domain.com
How to buy domain from Google domain?
Google domain is one of the leading domain providers in the world. You are definitely familiar with Google's contribution to the search engine field.
If you are new and want to get an idea of a domain name, you can use a domain name generator like Domainwheel.
Look at the picture.
Follow the steps on how to generate domain name ideas at free of cost!
Go to Google or any search engine.
Type Domainwheel.
Click here (domainwheel.com)
You will redirect to domainwheel.com
Search your keyword and check what type of domain name is suggested.
This is one of the oldest processes. Many people still use this one. Sometimes this platform does not meet your needs.
Why?
Suppose you are planning to make your own brand yourself like Biva Technologies. For that, you probably can't find good suggestions there. Rather you can find good suggestions in Google domains or Godaddy.
Disclaimer: I shall disclose how to book domain in the Google domain. You can use others. The basic things are the same.
How?
Look at the picture below.
Apart from Google Domains, you can check the same in GoDaddy, Domain.com, Namecheap and other platforms only for the availability.
Now, choice is yours.
Here you need to know some important facts regarding domain registration.
Domain name must represent your brand.
Domain should be short and easy to pronounce
Don't book domain with exact keyword (as per SEO perspective)
Be careful with TLDs.
What is TLDs?
TLD stands for Top Level Domain(s). It is the hierarchical DNS (domain name system). Let's understand what it is exactly!
You definitely see lots of company use domain name with
.com
.net
.edu
.gov
,org
.in/us/au/nz/
.mil
.xyz
.int
.biz and
More.
What are those? These are the TLDs.
Here are some most common and popular TLDs with their purpose.
.com TLDs – Commercial purpose.
.net TLDs – Network
.gov TLDs – Government organizations
.edu TLDs – Education organizations
.in/au/ca – Country specific TLDs and
More.
So, you can understand what you need to do to book a domain. Remember, domain name is the foundation of your online presence.
Top Hosting for Small Business WordPress Website Development
Hosting is actually space or server where you keep your website. Hosting is just like the room of a house.
There are various types of hostings available for WordPress. The price differs from ₹20. The upper limit is unlimited for every small business website.
There are some hostings like
Cloudways
AWS
Google cloud platform
WPS
Bluehost
Justhost
GoDaddy and
More.
I personally prefer cloud-based hosting always for the development of small business website. So my recommendation is Cloudways.
However, you can buy anyone as per your choice and budget.
There are huge variations. Don't worry, ask your website developer to guide you accordingly.
If you want to book hosting yourself, always check three things before choosing.
Support and uptime
Features with pricing range
Existing customer review.
You can easily check customer reviews using Google, Facebook, Quora, Reddit, and others.
Now I shall come to a standard price rate for hosting.
If you'll purchase cloudways, the basic package will cost around INR 850/- per month. You can get less if you choose other hosting.
And not for that, I can easily manage multiple websites in a single hosting as well.
Already I've been told that I prefer cloud hosting because of speed and performance. It doesn't mean that other servers are not good enough.
All hosting companies are good according to various parameters. So, choose yours as per your comfort zone.
Let's see the next.
WordPress Installation in the Hosting
Simply install WordPress in your hosting and point domain there.
Here is an example for cloudways how to install WordPress and point your domain.
Disclaimer: All the activities I show here using cloudways hosting.
Follow the steps to make your website in WordPress in just 5 mins (approx) using Cloudways.
First Go to Google and search Cloudways hosting.
You can directly visit the official website using www.cloudways.com
Create your account in Cloudways and login there. (you can use Google, Linkedin, and GitHub to login)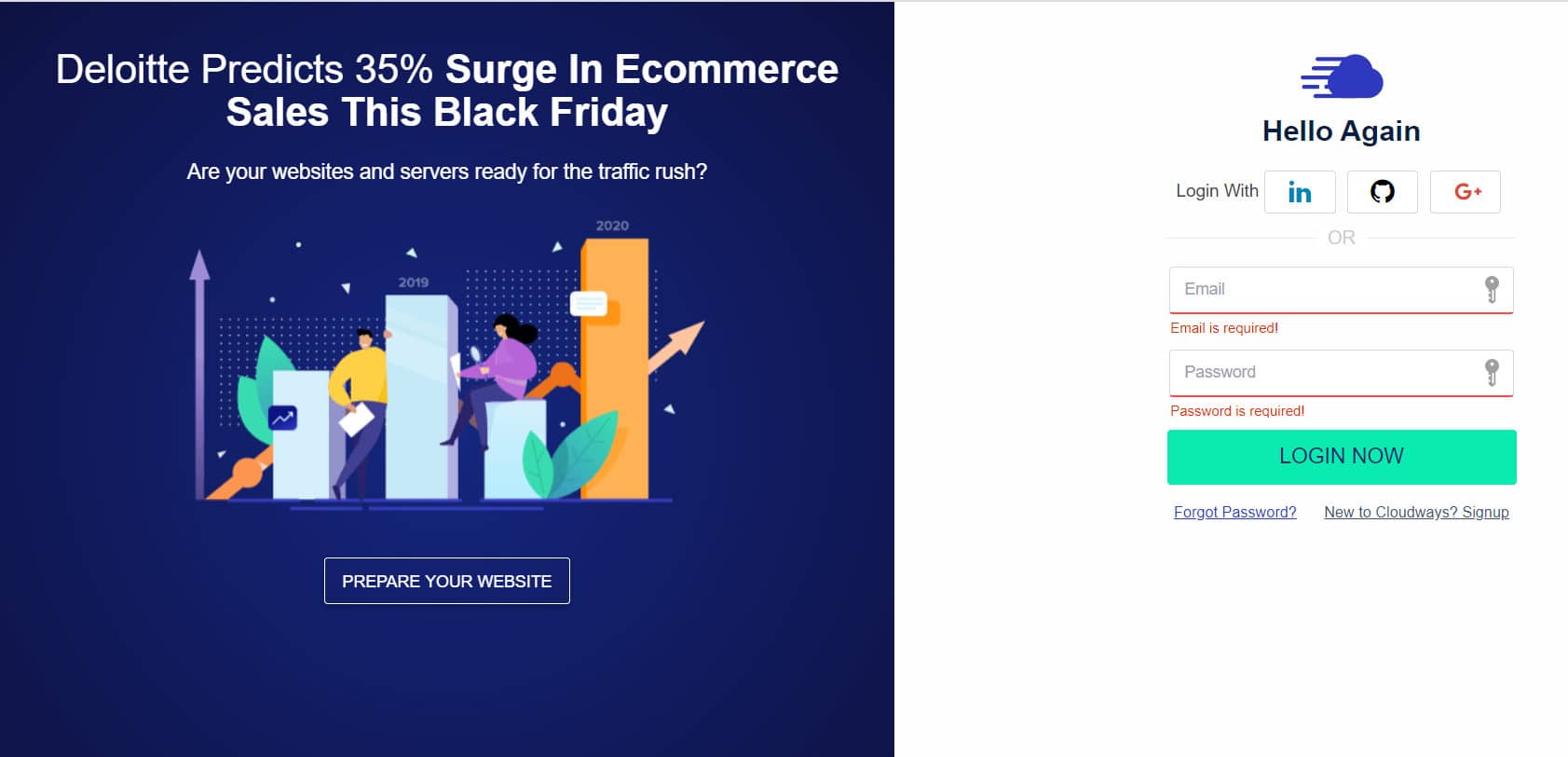 After login there first create a server.
For creating server you need to focus on three parameters:
Crete server
Choose a hosting provider like Digital Ocean
Determine server size (eg. 1gb) and server location (eg. Singapore)
After these, simply launch it. It will take up to 2 mins. (Sometime it may take more due to network or server issue)
After creating your server, you need to create your application with the name of your website or business.
It's very easy. Have a look.
Click on add application or create application (in case, if you are for the first time)
Choose WordPress version (I prefer to choose only WordPress)
If you have a plan to create a multisite, you can do so, but if you have a plan to make an ecommerce website, you can choose a simple WordPress version.
Now choose the application type (eg. WordPress)
Use the Website name and choose your server.
After that it will take up to 2 min approx. (Always remember, time matters as per internet speed, server response and other few factors)
Your application is ready.
Now, it is one of the most important jobs.
Point your domain to your hosting using the following.
This is the first step.
Now, here is a finishing step.
Go to your domain central or domain dashboard.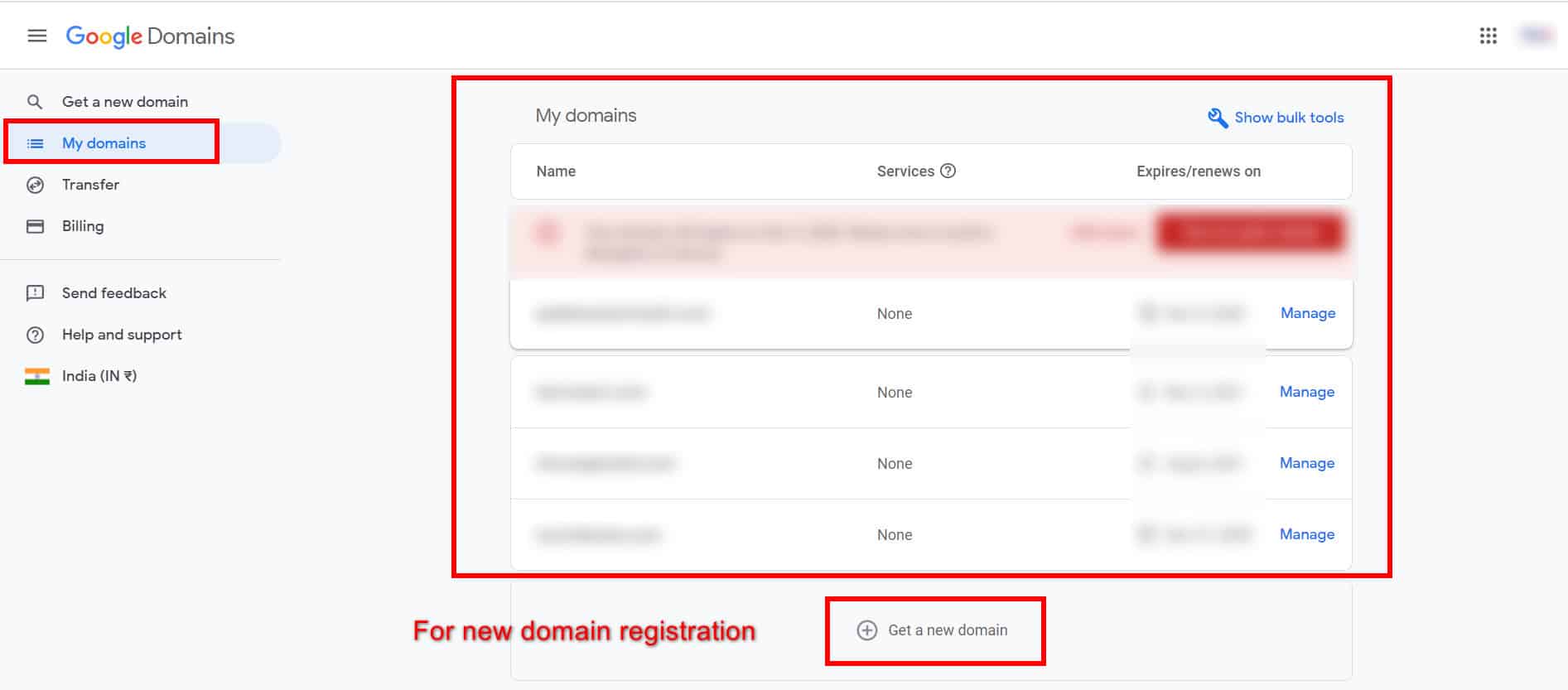 Disclaimer: I am using Google Domains. So here I shall show how to change DNS in Google domains.
You need to add (in general).
A record
CNAME record
MX record (optional)
After this, the propagation starts. It will take up to 48 hours. (though generally, it doesn't take more than 1 hrs, but sometimes, it really takes a huge time.)
Your website is ready with WordPress installed.
Integrate Theme in the WordPress Business Website
Choose your business type and pick a theme and install them.
If you want to customize your website then don't install the theme.
Use any web page builder like Elementor, Divi, Visual Composer, and more.
Here are some popular page builders.
Elementor
Divi
Visual Composer
Beaver Builder
SeedProd
Themify
For professional and functional website customization, the best is to use page builders.
If you know WordPress customization with page builders, you can easily make your own small business website with 100% customization and functionality.
There are huge themes available. Some are free, some are paid.
If you don't have that knowledge, hire our website design and development experts.
Now, you may ask how to install the theme?
Follow the simple steps one by one.
Login to your website dashboard.
Go to the Appearance option on the left.
Click on the theme option.
Click on Add new or Update themes.
Activate the theme after installing it.
Activate recommended plugins
Your website is ready.
If you use Divi or any page builder, you need to work more.
For Divi, make your web pages using either premade Divi template, or make your own.
The same advice is for all page builders.
You can consult our professional website design and development team regarding that (if you want so).
Fine!
Now after theme installation, you need to focus on your important pages.
Important Pages of Every Small Business Website (Requirement)
Every website is made for a specific purpose. Whatever the website is, some important basic pages you need. These pages are:
Home
About
Contact
Privacy Policy
Blog
Service/Product (if you deal with any)
Create your important pages according to your business requirement. Suppose you are planning to make an ecommerce website, you need to make other important pages like:
Cart
My account
Checkout and
More
In this way, you can create your important web pages for your small business website.
If you use a free theme, it will not charge a single penny. But if you want to develop your website with any premium theme or (page builder) plugin it will cost accordingly.
Price varies on what theme/plugin you purchase and for how long.
Hope you can understand it.
Your website is completely ready.
Your business website is useful if you'll get visitors to your website. You may ask how to bring visitors to your website?
You can generate two types of visitors (traffic) to your website. These are:
Organic Traffic
Paid Traffic
Organic traffic comes with SEO (Search Engine Optimization), SMO (Social Media Optimization), Content Marketing, Email Marketing, and others.
You can generate huge paid traffic from SEM (Search Engine Marketing), (SMM) Social Media Marketing Influencer Marketing, and more.
Small business website costs nearly
Domain – approx INR 1200/year
Hosting – approx INR 10200/year (for cloudways cloud hosting)
Hosting – approx INR 3600-6800/year (for shared hosting)
WordPress installation – FREE
Theme – FREE
Theme – INR 2700 – 222500 (it depends on type of business)/year
SEO – approx 60000/year
Don't get upset. Here is another price for budget users.
Domain – approx INR 1200/year
Hosting – approx INR 3600/year
Theme – FREE
SEO – later (after few months)
This budget package will take approx INR 4800/- which is very budget-friendly.
I have an open offer for all. If any of you purchase Cloudways from my Affiliate link (confirm it with invoice/purchase information), I shall develop your website (general with free WordPress theme) free of cost.
Here is my Cloudways Affiliate Link.
Disclaimer: The website must be general, Ecommerce, LMS and other specific service type websites will cost an extra.
Sum up
If you want to make your small business popular, you need to focus on small business website development. Remember, you can get your website within your budget. Whatever website you require, you can comment below to get the exact quotation. If you have a plan to make your website in WordPress, consult with me for FREE.
I am a Google, Hubspot, SEMRush Certified Digital Marketing professional.  I've been providing quality Digital Marketing Training since 2018. I've started my journey as a freelancer. After 2018 when I launched Biva Technologies, I have been successfully handling various digital marketing projects including content writing, website design and development, SEO, SEM (PPC), social media, content marketing, email marketing and more. I love exploring new things, therefore, I spend 3 hours (approx) a day to lean new things. I am very passionate about Digital Marketing Training, Digital Marketing Services, Blogging and Affiliate Marketing as well.