Do you know eCommerce Website Development is one of the famous topics in this era? The eCommerce business is booming in India. After the covid-19 pandemic, online business is a new craze. Ecommerce business in India is one of them.
E-Commerce is a growing popular business model in India. Many people want to invest here due to its potentiality.
The significant online business growth confirms the need for eCommerce websites. In this article, I am going to reveal how easy to make an eCommerce Website Development in WordPress.
There are lots of other platforms available besides WordPress, but I personally prefer WordPress for three reasons.
Cost effective
More customisation
Easy to handle.
You may think the same as me. So without delaying I am just going to start how to start ecommerce website development in WordPress.
Before starting the main topic, you have a question.
Why do I Prefer eCommerce Website Development in WordPress?
As per my digital marketing experience, I have seen people (customers) generally like three things. These are:
Easy to Access from both front and back end.
Update their requirements at ease.
Definitely there are others like Shopify, Majento, Wix and more. You can choose any of them.
So let's start eCommerce Website Development in WordPress.
What is WordPress?
WordPress is an industry-leading content management system (CMS) platform. On the web, if the content is everything, then why not WordPress!
Whatever your product is, it may be garments, cosmetics, or any loom, or anything, you can easily use WordPress.
Remember, lots of people trust WordPress for many reasons. Here are some important reasons.
Best for SEO
Every business is manageable
Cost effective
User friendly (both developer and user)
You may ask how to make an eCommerce site in WordPress. Let's see.
How to make an eCommerce Website Development in WordPress?
By default WordPress is not a WordPress site. Though some hosting providers like Cloudways provide ecommerce WordPress hosting at installation time.
Don't worry!
If your WordPress is not installed with e-commerce features, you can make it easily.
How!
You definitely know about WordPress plugin.
What is a WordPress Plugin?
WordPress plugin is a tool or software that helps to customise WordPress even without having any coding knowledge.
WordPress popularity is somehow dependent on WordPress plugins.
Almost every purpose can be solved by WP plugin.
There are huge WP plugins available in the market, among them Woocommerce is one of the most populars.
What is Woocommerce Plugin
Woocommerce Plugin is simply a tool or software that converts your simple WordPress site to an online store. Ecommerce Website Development in WordPress is easily possible with the woocommerce plugin.
How!
I shall discuss in detail here, don't skip this article.
WP supports every business model. For the electronic commerce business Woocommerce is the premade plugin.
Here are the steps you need to follow.
Install Woocommerce
Customize Woocommerce Plugin
Create important pages
Add Payment Gateways
Enjoy your Online Store.
I'll disclose everything you need to create your online store.
Follow the steps below:
Install WordPress first
This is the primary process. You need to install WordPress first. Here are some important steps to install WordPress.
Go to your hosting (eg Cloudways.com)
Choose your hosting or server
Install your WordPress
Point your Domain there
Your WordPress installation is ready.
In the market various types of hostings are available. So, the process of installing WordPress may differ. Don't worry! Ask your hosting provider to install WordPress.
WordPress installation takes 10 mins generally (it depends on hosting, internet speed as well)
After installing WP, you need to login to your Website dashboard.
Login Website Dashboard
Login website dashboard is very easy. Generally type 'wp-admin' just after your website name without any space.
Put login credentials like Username and Password.
You've entered your site's dashboard.
Install Woocommerce Plugin
Once you enter your website dashboard, you need to install the Woocommerce plugin for eCommerce Website Development.
How!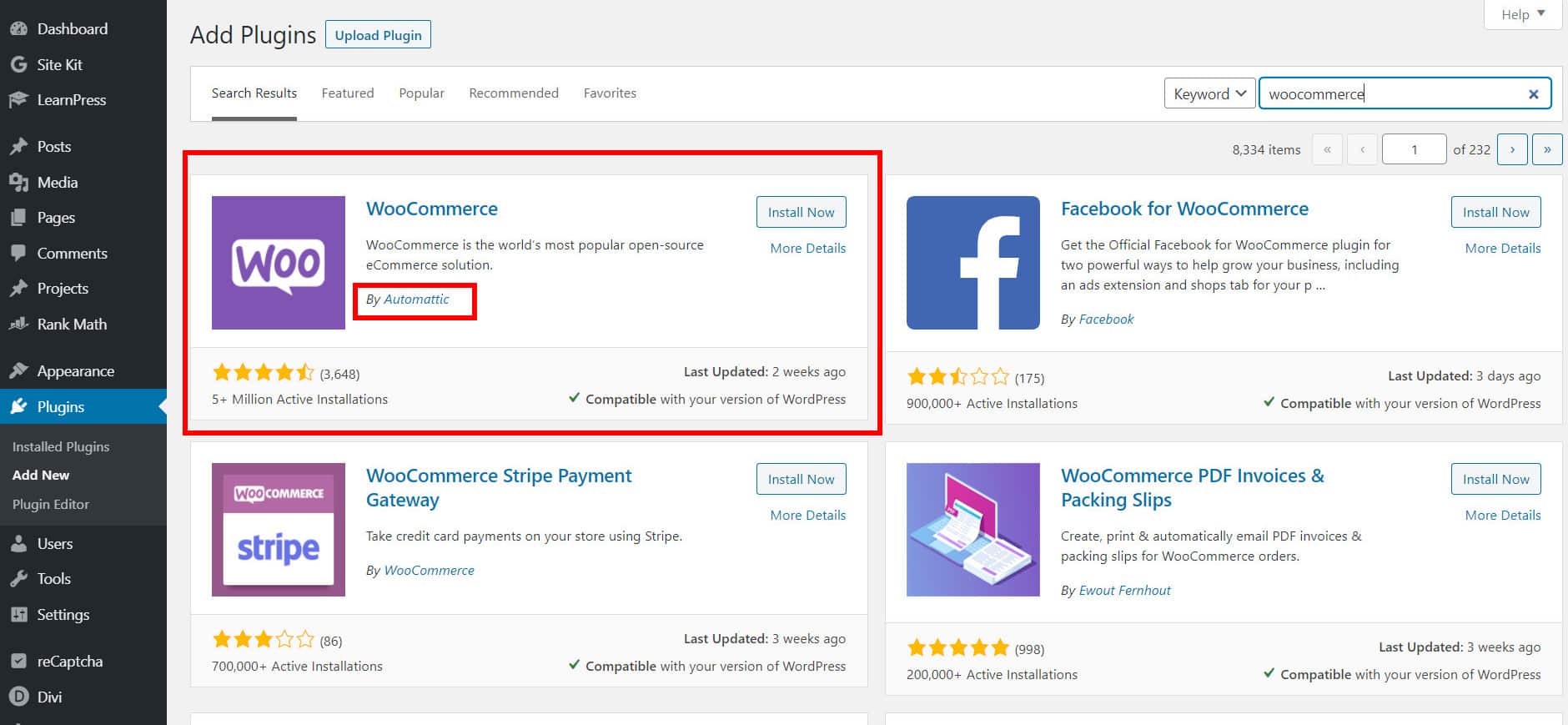 Follow the steps below.
Go to the Plugin Section at the left hand side of your website's dashboard.
Click Add new. You can upload that plugin if you have downloaded the same. For that click upload instead of add new.
Type woocommerce plugin
Install that plugin and activate.
Your first step is done.
Customize Woocommerce Plugin
After installing the woocommerce plugin, you need to concentrate on customization that one.
How to customize the Woocommerce Plugin?
Follow the easy steps below.
Use wizards to customize as per your need.
You can use the wizard to set up your store.
For that follow the five important segments.
Store detail
Type of industry
Product types
Business Detail and
Theme
Store Detail
Store detail is your physical business address. This address must be the same as Google My Business.
If you target local business growth, you definitely know the importance of Google My Business.
Now, you need to put all important credentials (business) like:
Address (1 and 2)
Country
City
Pincode/Zipcode
If you want to manage your online store, put your house address as your business detail.
Only remember, your address will be the same as Google My Business.
After filling up all the important credentials, click the continue button.
Type of Industry
The most significant part is your industry type. Suppose you plan to establish an online store for garments, choose that one.
You can choose any one of them.
After selecting the industry, click the continue button.

Product Types
The product type is very significant in every business. If you run any physical product store, check it first.
If you provide others, check according to them.
Some of them are paid. You can skip them if you want to customize the free WooCommerce plugin.
I personally prefer to choose physical products. If you are not selling any physical products, check the download option.
Business Detail
Business detail depicts two very significant things. These are:
How many products do you want to display?
Where to sell your product?
You can customize your preference of selling products with the option. Preference is yours.
After the above, you have to choose a theme.


Theme Section
Choose the theme you like for your ecommerce store. There are many themes available. You can choose any one of them, or install your favourite theme.
In WordPress, you can find various types of themes. According to your business model, always choose the best suitable theme for your business.
At the last section, connect the woocommerce plugin with your theme.
Using the above steps you can customize your store or woocommerce plugin.
Here is another step to customize woocommerce manually. For that follow the process.
If you have little bit of knowledge on WordPress, you can easily manage your online store in this way.
After installing Woocommerce Plugin, go to its settings.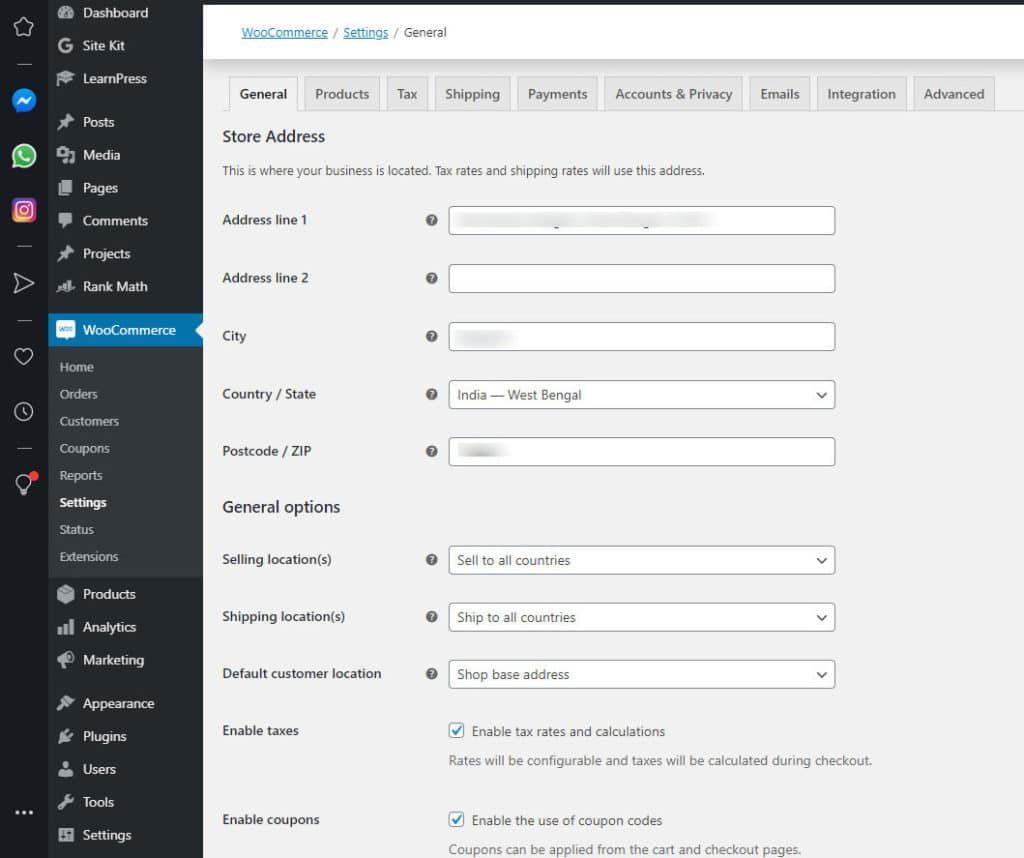 For that follow the steps below.
Go to the Woocommece plugin at the left hand side.
Click on settings.
Under the settings section, you'll see the important 9 tabs.
General
Products
Tax
Shipping
Payments
Accounts and privacy
Emails
Integration and
Advanced
Woocommerce General Tab
Under the Woocommerce general tab, you need to put the following.
Store location
Here you need the following:
Address with city
Country and state
Postcode or zipcode
General section where you need to focus on
Shipping and selling location
Default customer location
I personally prefer enabling taxes. So I always check it.
You can enable coupon if you wish too.
You need to work carefully on the currency. Suppose you are from India, always choose currency as Indian Rupee (₹)
After everything in the general section, click the save button.
Woocommerce Product Tab
This is the most significant section of your WordPress website's online store.
Select your shop page first. If you've already created a shop page for your business, that's great. Otherwise you must create your shop page (very very important).
Enable product review, verified owners, rating on reviews etc to grow business.
Save always after making significant changes.
Woocommerce Tax Tab
Taxation is different from country to country. So be attentive to customize your taxation options.
Woocommerce Shipping Tab
Shipping zone is always a geographical location where you can manage your shipping methods and customise rates. You can add a shipping zone if you need it.
Woocommerce Payment Tab
Payment gateway is the most crucial section for any e-commerce business.
Check your preferable payment method and enable it.
Suppose you want to take payment via PayPal payment gateway, you need to enable that one first.
You can choose any other payment gateway like instamojo, Paytm, Razorpay, Stripe, Skrill, Amazon Pay and more.
According to your preference and choices, you can choose any payment gateway.
In WordPress, you will find lots of payment gateway plugins. You can avail as per your choice.
Woocommerce Account and Privacy
Under the account and privacy section, you can customize the following.
Guest checkout
Account creation
Personal data removal
Account eraser request
Checkout privacy policy
Registration privacy policy
Personal data retention etc.
Woocommerce Email Tab
Email notifications are truly important for online business. Through email notification, you can easily trigger your business regarding new order, refund or anything.
You can easily configure emails to trigger your business. This section is important in any ecommerce business.
Woocommerce Integration Tab
Woocommerce integration with MaxMind helps to get benefit of geolocation lookups. For that you need to integrate MaxMind properly.
It helps in geolocation lookup. So, you can use it as per your need.
Woocommerce Advanced Tab
This is one of the most important sections. You can set up your page, including checkout and account endpoints.
Apart from it, you can allow external apps to view and manage your store data with the help of Rest API. This section is also available here.
Woocommerce is best for event notification. You can do with the webhook section here.
Woocommerce plugin helps you in many ways. Already I've mentioned how you can manage your ecommerce store.
Sum up
As a digital marketing professional, I've seen people have a craze to make an eCommerce website. Definitely, there are other platforms available, however, many people like WordPress CMS to make their online store. In this article, I've tried to cover how to make an eCommerce website in WordPress.
I am a Google, Hubspot, SEMRush Certified Digital Marketing professional.  I've been providing quality Digital Marketing Training since 2018. I've started my journey as a freelancer. After 2018 when I launched Biva Technologies, I have been successfully handling various digital marketing projects including content writing, website design and development, SEO, SEM (PPC), social media, content marketing, email marketing and more. I love exploring new things, therefore, I spend 3 hours (approx) a day to lean new things. I am very passionate about Digital Marketing Training, Digital Marketing Services, Blogging and Affiliate Marketing as well.